| | |
| --- | --- |
| Posted on February 16, 2016 at 7:30 PM | |
Langara College's, Health & Human Services Department, faculty Mara Hagglund, CAIEH from the  Integrative Energy Healing Program will be available for questions and will be taking appointments through-out the day. Advanced Integrative Energy Healing student practitioners will be offering 30 minute mini-energy healing treatments for an incredbly low price of $10! Exculsively for Welllness Show visitors!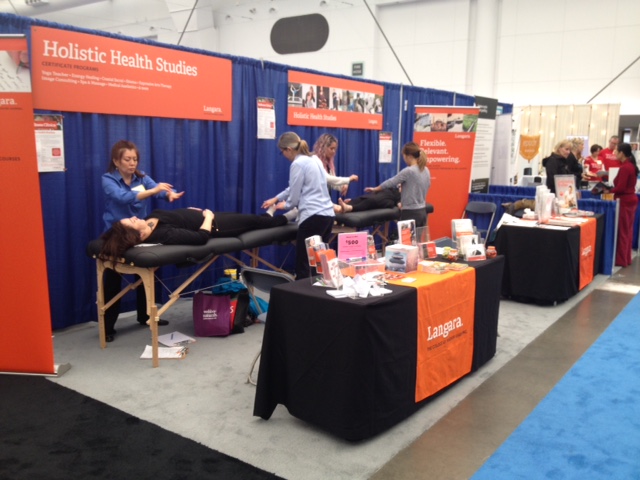 The Wellness Show, the largest trade show in Western Canada, is dedicated to helping you to live a more balanced and holistic lifestyle. This year includes exhibitors, speakers and demonstrations on a diverse range of health and wellness topics, all under one roof. Spend a day browsing the latest and greatest supplements, exercise options, raw and gluten-free foods, and ways to relax, manage your stress and look better.
Find us at the Langara College exhibit in the Zen Zone.
Vancouver Convention Center. February 12, 2016, 12 pm-7pm.
The Integrative Energy Healing Program is at The Wellness Show this weekend only! Please come by and say hello!
           –––––––––––––––––––––––––––––––––––––––––––––––––––––––––––––––––––––––––––––––––––––––––––––––––––––––
Author reference:
Mara Hagglund, CAIEHP is a transformational learning adult educator and has been teaching Energy Awareness/Biofield since 2015 in the Healing Sciences Theory & Skills stream in the Integrative Energy Healing™️ Program at Langara College. Mara is certified Advanced Integrative Energy Healing™️ practitioner with a specialty in Integrative Energy Healing in somatic and trauma healing.
If you would like to experience an Integrative Energy Healing session with Mara please email at [email protected] 
Categories: Integrative Energy Healing, Langara College, Community
/